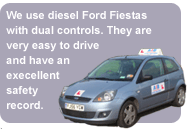 About A2B Driving School ...
A2B Driving School employs only fully qualified grade A driving instructors with years of experience in providing quality driving tuition. We provide driving lessons in East Kilbride and Glasgow area with great success and achieving high pass rates.
We are committed to taking the stress out of learning to drive by making the pupil feel at ease in a relaxed and friendly, yet professional environment. We aim to keep our prices competitive by offering block bookings and special offers to our pupils.
CURRENT RATES
Special Offer First 10 Driving Lessons £270 saving £20 (Taken as 5 x 2 Hour Lessons)..
1 hour - £29.00
1.5 hour - £43.50
2 hours - £56.00
Block of 10 hours - £270 saving £20
Block of 20 hours - £540 saving £40
Intensive courses - please call for more information
PASS PLUS COURSE
6 hours course - £200
Extra pass plus lessons (if required) - £29
MOTORWAY LESSONS
1 hour motorway lesson = £30

REFRESHER LESSONS
1 hour refresher lesson = £29.00

Please note:
Although we pride ourselves on being competitive prices are subject to change. The cost of prepaid tuition is based on the lesson price at time of booking and will be honoured for 3 months thereafter irrespective of any price changes.
Before you take driving lessons
You must be 17 years old and hold a provisional licence (full licence for Motorway/Pass Plus/Refresher) before you can take L-plate lessons. You must notify your instructor of any changes to your ability or entitlement to have driving tuition, for example, loss of a valid provisional driving licence, or medical reasons such as epilepsy.
Payments
We accept payment by cash or cheque made payable directly to your A2B Driving School instructor.
Cancellations
Cancellation notice must be given to your instruction at least 24 hours before your lesson. Failure to do so may result in charge being applied for the lesson (this is at the instructor's discretion). You will also be contacted beforehand should your instructor had to cancel due to unforeseen circumstances, such as breakdown.