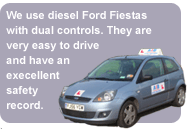 Theory driving test ...
About your theory test
The theory test consists of a multiple-choice part and a hazard perception part taken on a touch screen computer. Both parts must be passed to be successful, when passed this will allow you to book your practical driving test.
The multiple-choice part
This part of the test has 50 questions. You must answer 43 correctly in a time limit of 57 minutes to pass. Some questions require more than one answer to pass on that question.
The hazard perception part
On this part of the test you will be asked to watch 14 video clips of every day road scenes. You are assessed when clicking the mouse button as the hazard develops, there is a maximum score of 5 for each clip with a top score of 75. The pass mark for this part is 44 out of 75.
To help you pass this your theory test we suggest a reading the Highway Code and practise with driving test success software. For some example software packages please visit www.focusmm.co.uk/shop/Driving-Test-Success-c-153.html
Before you take driving lessons
You must be 17 years old and hold a provisional licence (full licence for Motorway/Pass Plus/Refresher) before you can take L-plate lessons. You must notify your instructor of any changes to your ability or entitlement to have driving tuition, for example, loss of a valid provisional driving licence, or medical reasons such as epilepsy.