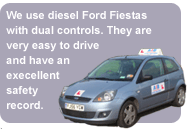 Practical driving test ...
How does your instructor knows you are ready to take the practical driving test?
In order to know if you are ready to book the test, your instructor must see that you are a safe, independent driver. In practical terms this means that he can see that you follow the directions he gives you. Deal safely with all driving situations you encounter, and complete all possible manoeuvres with no help, either verbally, or physically from your instructor. If you can do this consistently during your normal driving lessons, you are ready!
As you get towards test standard in your driving lessons he may also conduct a mock driving test. This test is to check your driving standard and to let you know what to expect on your real driving test. He will complete the test in the same way as a proper practical test and mark it accordingly. He will go over the test report sheet, which will help you understand how it is marked and the reasons for the minor/serious fault.
About your practical driving test
The driving test is straightforward and has been developed to see if you can show that you can drive safely and if you have a good knowledge of The Highway Code and can demonstrate this through your driving.
The test will last around 40 minutes. You can make up to 15 driving faults and still pass the test (16 or more results in an unsuccessful attempt). However, if you make one serious or dangerous fault this will result in an unsuccessful attempt.
Throughout the test you should drive in the way your instructor has taught you and follow the driving examiners directions. If you make a mistake don't worry about it, it may only be a minor fault and may not affect your result. Keep calm, concentrate and carry on.
What will the test include?
The first part of your driving test will start with an eyesight check. The examiner will ask you to read a number plate, the minimum distance for this is 20.5 meters for the old style plate and 20 meters for the new style plate (if you cannot complete this part, the driving test will not continue).
You will then be asked two vehicle safety questions from the DSA Show Me Tell Me set questions. Next you will be examined on your standard of driving and on two reversing exercises. The examiner will ask you to complete two of the following reversing exercises:
Turning in the road
Reversing around a corner
Reverse parking
Bay park (At some test centres)
In addition to the reversing exercises you may also be asked to carry out an emergency stop exercise.
After the practical test
When the driving test is over, the examiner will give you the result and ask if you would like your instructor present for the debrief, your examiner will then go through your performance during the test.
When you pass
When you pass and have a photo card driving licence the examiner will ask you if you want your full driving licence issued to you automatically. If you agree to this the examiner will ask you to handover you provisional licence.
If you are unsuccessful
The examiner will give you a driving test report form. This will also show you where you made any mistakes. You can take another practical test 10 working days after your test.
Before you take driving lessons
You must be 17 years old and hold a provisional licence (full licence for Motorway/Pass Plus/Refresher) before you can take L-plate lessons. You must notify your instructor of any changes to your ability or entitlement to have driving tuition, for example, loss of a valid provisional driving licence, or medical reasons such as epilepsy.
Special Offers
New offer beginners only.
Buy first 10 lessons for only £240 saving £30!

When taken as 2 hour lessons.
Book NOW!
Feel free to call us anytime on 07813 984 337 for more information or to discuss your individual requirements. We look forward to hearing from you!